2020 Report Cédric BLANPAIN
Ceremony of the Francqui-Collen Prize by his Majesty The King
at the Palais des Académies on December 16, 2020 (without public)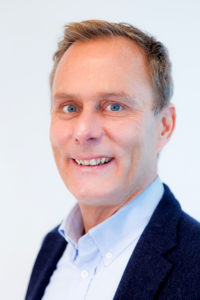 Background – Works – Report of the Jury 
His background
Cédric Blanpain was born in Uccle on September 6, 1970. He studied at the Saint-Hubert college in Boitsfort. Cédric Blanpain began his medical studies in 1987. During his studies, he was already fascinated by the medical sciences and carried out several research internships. He met Prof. Bauwens and Prof. Vassart, Francqui Prize 1993, who would have a great influence on his training and scientific choices. He graduated Medical Doctor (MD) from the Université Libre de Bruxelles (ULB) in 1995 with summa cum laude. He specialized in internal medicine from 1995 to 2002. In parallel with his specialization in internal medicine, he completed a PhD thesis in medical sciences as an FNRS candidate in the laboratory of Prof. Parmentier (Francqui Prize 1999). During this period, he studied how CCR5 ligands inhibit the entry of HIV. He received the 2002 Galien Pharmacology Prize for his PhD thesis.
After his PhD in medical sciences and his specialization in internal medicine, Cédric Blanpain decided to change field of research and study stem cells. To acquire expertise in the field, he did a postdoctoral fellowship from 2002 to 2006 at the Rockefeller University in New York, in the laboratory of Elaine Fuchs, a world-renowned specialist in skin stem cells. To perform this postdoctoral stay, he received a grant from the Belgian American Educational Foundation (BAEF) and then a grant from the Human Science Frontier Program Organization (HFSPO).
In October 2006, Cédric Blanpain was appointed FNRS researcher.  He created his research laboratory at the Université Libre de Bruxelles thanks to a scientific impulse mandate from the FNRS, a career development award from the Human Frontier Science Program Organization and an endowment of the Schlumberger Foundation for Education and Research (FSER). His research group uses lineage tracing and multidisciplinary approaches to identify and characterize stem cells in different tissues such as skin, mammary gland, prostate or heart during embryonic development, homeostasis and tissue repair. He uses the same approaches inspired by stem cell and developmental biology to identify the cells at the origin of cancer and the mechanisms which regulate cancer progression, metastatic spread and resistance to anti-cancer therapy. Cédric Blanpain has been investigator of the Walloon excellence in life sciences and biotechnology (WELBIO) since 2011. He was appointed Professor in 2011 and full Professor in 2012. He became the Director of the stem cells and cancer laboratory in 2017. In 2018, he created a spin-off, Chromacure SA, which develops new anti-cancer drugs.
Cédric Blanpain received several prestigious awards. He was selected by the journal Nature as one of ten scientists who mattered in 2012. He received the EMBO Young investigator award 2009, Young Investigator Award from the International Society for Stem Cell Research (ISSCR) 2012, the Liliane Bettencourt Prize for life sciences in 2012, the quinquennial FNRS Joseph Maisin prize for basic biomedical sciences 2015, the prize for biomedical research 2019 from the Astra-Zeneca foundation. He was elected a member of the European Molecular Biology Organization (EMBO) in 2012, of the Royal Academy of Medicine in 2012 and of the Academia Europaea in 2015. Cédric Blanpain was awarded three research grants from the European Council of research (ERC): starting grant (2007-2012), consolidator grant (2013-2019) and advanced grant (2020-2025).
Cédric Blanpain is married to Florence Abramowicz, MD and specialist in gynecology. They have two wonderful children, Maxime (15) and Charly (13).
* * *
His works
Cédric Blanpain studies stem cells during embryonic development, homeostasis and tissue repair as well as their connection with the development and progression of cancers.
His research group has identified the stem cells responsible for cardiac development as well as the molecular mechanisms that are responsible for the specification of cardiac and vascular lineages. Using multidisciplinary approaches combining cell tracing and single-cell sequencing, he has identified the mechanisms responsible for the development, maintenance, and repair of the skin.
Cédric Blanpain's laboratory has developed new tracing methods to identify the populations of stem cells at the origin of the development of the mammary gland and the prostate. He showed that the initial stages of development in these two organs were mediated by multipotent stem cells capable of differentiating into all types of tissue cells. However, during postnatal development, multipotent stem cells are replaced by different populations of unipotent stem cells which replace only one of the cell subtypes during adulthood. The new developmental paradigm discovered in the prostate and mammary gland also applies to many other tissues.
For the vast majority of cancers, the cells at the origin of cancer are still unknown. The Blanpain laboratory was pioneer in identifying the cells at the origin of cancer. He discovered the cells at the origin of basal cell carcinoma, the most common cancer in humans. He identified the cells that cause the other most common skin cancers as well as breast cancers. These studies have discovered that the cellular origin of cancers is decisive in the types of cancer that will develop, in their ability to generate metastases and in their resistance to therapy.
The existence of cancer stem cells has long been debated due to the methodology used to study them. Cédric Blanpain's group has provided the first experimental demonstration, by tracing and cell ablation, of the existence of cancer stem cells in their natural environment and of their importance in tumor growth. He has also identified the importance of the vascular niche in the regulation of these cancer stem cells as well as the molecular factors that regulate their functions. His research group has identified the cell populations responsible for metastatic spread and resistance to therapy in skin and breast cancers and discovered a new drug combination that eradicates drug resistance in skin cancers.
* * *
Report of the Jury (November 19, 2020)
The 2020 Francqui-Collen Prize in Biological and Medical sciences is awarded to Cédric Blanpain for his seminal contributions in the areas of cancer and normal stem cell biology. Dr Blanpain's work at the interface between biological and medical sciences has transformed the way we think about the largest of our organs, the skin.
Trained in Belgium and at Rockefeller University, Dr Blanpain developed unique experimental techniques, called lineage tracing, that allowed him to analyze stem cells over time and follow in a quantitative manner, using sophisticated mathematical analysis, how they generate various daughter cells. Using this approach, Dr Blanpain was able to identify the specific stem cell populations that give rise to the skin and those that only become active when our skin is injured. He has done parallel work unraveling a similar arrangement in the mammary gland. Together with his team at the Université Libre de Bruxelles, he was also able to generate unique insights into the biology of lung and heart stem cells, identifying the stem cells that give rise to the various parts of those organs. These findings are of tremendous importance and will help to develop regenerative therapies for skin, lung and heart injuries.
Dr Blanpain's unique quantitative approach gained particular attention for the analysis of various types of skin and breast cancers. He could identify cell types that lead to squamous cell carcinoma and to basal cell carcinoma and could analyze in a quantitative manner how they turn from normal stem cells into tumor promoting tumor stem cells when oncogenic mutations are introduced. Using those models, he could define the signaling pathways responsible for the steps and identify potential backup treatments for skin tumors resistant to common medical first-line treatment, a therapeutic approach that is now in clinical trials. Similarly, he has made key observations about the origin of luminal and basal-like breast cancers.
The work of Dr Blanpain illustrates beautifully how precise and quantitative basic biology studies can generate insight into human disease that can be directly translated into therapy. His unique success in going all the way from basic science to clinical application makes Dr Blanpain one of the premier researchers in his field.
Members of the international jury :
Professor Johannes (Hans) Carolus Clevers, MD
Hans Clevers MD PhD (1957) is professor in molecular genetics at Utrecht University. He leads a large research group at the Hubrecht Institute investigating stem cells and cancer. His discovery of the link between Wnt signaling and stem cells, the identification of gut stem cells and the development of organoid technology has led to multiple awards including the Breakthrough Prize in Life Sciences. He is an elected member of science academies in the Netherlands, France, the UK and the USA.
Chairman
and
Professor Emma Allen-Vercoe, PhD
Canada Research Chair
University of Guelph
College of Biological Science, Department of Molecular and Cellular Biology
Ontario, Canada
Professor Carlos Caldas, MD FMedSci
Carlos Caldas is Professor of Cancer Medicine, University of Cambridge, and Head, Breast Cancer Functional Genomics Laboratory, Cancer Research UK Cambridge Institute. He is Fellow of the Academy of the Medical Sciences, Fellow of the European Academy of Cancer Sciences, and EMBO Member. He received the 2016 ESMO Hamilton Fairley Award and holds an ERC Advanced Grant. His research focus is the functional genomics of breast cancer and its biological and clinical implications.
Professor Eelco de Koning, MD, PhD
Eelco de Koning is professor of diabetology at the Leiden University Medical Center and group leader at the Hubrecht Institute in the Netherlands. He heads the diabetes section at the LUMC and is coordinator of the nation-wide clinical islet transplantation program. After obtaining his M.D. he started research into islet biology and pathology at the Diabetes Research Laboratories in Oxford which resulted in a Ph.D. in 1994. He worked at the Joslin Diabetes Center 2004-2005 to focus on islet transplantation and beta cell regeneration. His research is currently focused on human islet cell identity and the generation of insulinproducing cells from stem cells.
Professor Yuval Dor, PhD
The Hebrew University of Jerusalem
Israel
Professor Michel D. Ferrari, MD, PhD, FANA, FRCP

Michel D. Ferrari, MD, PhD, FANA, FRCP
Professor of Neurology, in particular "Paroxysmal Cerebral Disorders", at Leiden University Medical Centre, The Netherlands. He is an elected Fellow of the American Neurological Association and the British Royal College of Physicians. He received numerous awards, including the WINKLER Medallion for Excellence in Neurological Research, the HARTMANN MULLER Prize for Biomedical Research (Zurich University), the VICI Innovational Research Personal Incentive Schema Award, the SPINOZA Life Time Achievement Premium, the highest science prize in The Netherlands, and a GRAVITY Award "Brain on a Chip" as part of the "Netherlands Organ on Chip Initiative"
Professor dr. ir. Mike S.M. Jetten 
Full Professor and Head of the Department of Microbiology
Radboud University
Nijmegen, The Netherlands
Professor Jürgen Knoblich, PhD
Juergen Knoblich is heading the Institute of Molecular Biotechnology in Vienna.  He is a developmental neuroscientist studying human brain development and psychiatric disorders.  His group has developed a method for growing human brain tissue in the lab.  They can recapitulate human embryonic brain development during the first trimester and analyze the developmental defects leading to neurological disorders.
Professor Charles M. Rice, PhD
Charles M. Rice, PhD, is Head of the Laboratory of Virology and Infectious Disease at the The Rockefeller University. He is a prominent figure in research on members of the Flaviviridae including hepatitis C virus and has co-authored over 500 articles in the field of virology. He is a past President of the American Society for Virology, a Member of the U. S. National Academy of Sciences, and a recipient of the M. W. Beijernick, Dautrebande, Robert Koch, InBev Baillet-Latour prizes, the Lasker-Debakey Clinical Medical Research Award, and the Nobel Prize in Physiology or Medicine.
Professor Flora van Leeuwen, PhD
Head of division of Epidemiology and Psychosocial Research
Netherlands Cancer Institute
Professor of Cancer Epidemiology
Faculty of Medicine, Vrije Universiteit
Amsterdam, The Netherlands
Members