2021 Rapport Michaël GILLON
Plechtige uitreiking van de Francqui Prijs door Zijne Majesteit Koning Filip
in het Paleis der Academiën op 7 december 2021 (GEANNULEERD EN UITGESTELD)
(alleen op uitnodiging en op presentatie van de covidpass + masker)
Loopbaan – Werken – Jury verslag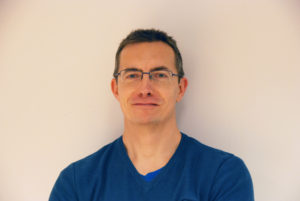 Zijn Loopbaan
Michaël Gillon werd in 1974 geboren in Luik. Hij groeide op in Louveigné, een kleine gemeente in de omgeving van Luik. Vanaf zijn prille jeugd was deze zoon van een gemeentearbeider en een secretaresse geboeid door de sterren en bezeten van het mogelijke bestaan van levensvormen elders in het heelal.
Hij volgde de algemene humaniora aan het atheneum van Esneux (1e tot 4e jaar) en dat van Aywaille (5e en 6e jaar). Als dromerige adolescent was hij vaak op zoek naar zichzelf. Wetenschappen (vooral biochemie) boeiden hem, maar universitaire studies werden hem als extreem moeilijk voorgesteld en schrikten hem af.
Na zijn middelbare school begon hij, gezien zijn sportieve aard, op 17-jarige leeftijd aan een loopbaan in het Belgische Leger, bij de infanterie. Na enkele jaren als infanterist in het Regiment van de Ardense Jagers in Marche-en-Famenne liep hij fibromyalgie op (een aandoening van het zenuwstelsel), wat steeds zwaarder begon te wegen op zijn activiteiten als militair. Fysieke verzwakking deed hem steeds meer vluchten in lectuur, vooral veel populariserend wetenschappelijk werk, waardoor hij een almaar meer uitgesproken passie ontwikkelde voor de studie van het leven, het heelal en hun mysteries.
In 1998 werd hij om medische redenen afgekeurd bij het leger en besloot hij om op zijn 24e biologie te gaan studeren aan de universiteit van Luik. En dán verandert álles … Tot zijn verbazing scoort hij uitstekend. Zijn zelfvertrouwen groeit: hij wil nog veel meer leren en begrijpen. Hij cumuleert, nog altijd in Luik, studies biologie en fysica (bachelor), daarna biochemie en astrofysica (masters).
In 2002 begint hij, nog altijd in Luik, aan een doctoraatsonderzoek in de astrofysica, gericht op de ruimtemissie CoRoT. Een van de wetenschappelijke doelen van deze missie is de ontdekking en de studie van exoplaneten, een nog jong domein dat dan in volle opmars verkeert. (De eerste exoplaneten werden pas in 1992 ontdekt.) Zijn eerste activiteiten sluiten direct aan bij de vraag die Michaël Gillon altijd al fascineerde: zijn wij de enigen in het heelal?
In maart 2006 verdedigt hij zijn doctoraatsthesis (met grootste onderscheiding) en vertrekt hij voor een post-doctoraat naar het observatorium in Genève, waar hij gedurende bijna drie jaar werkt in het team van Michel Mayor en Didier Queloz, pioniers op dit domein die in 2019 overigens bekroond worden met een Nobelprijs voor hun ontdekking van de eerste exoplaneet in een baan rond een ster die vergelijkbaar is met onze Zon.
In januari 2009 keert hij terug naar de universiteit van Luik. Doctor Gillon zet eerst als post-doctoraal onderzoeker, later (2010) als 'chercheur qualifié' met FNRS-beurs, en nog later (2018) als 'maître de recherches' met FNRS-beurs zijn werk voort: ontdekking van exoplaneten en hun fysisch-chemische karakterisering. Hij staat aan de wieg van het TRAPPIST-project (TRAnsiting Planets and Planetesimals Telescope), op basis van een robottelescoop die hij in 2010 samen met Luikse collega's installeert in het Europese Austral Observatorium van La Silla (Chili). Hij leidt daar het exoplaneetprogramma. Hij ontwerpt en ontwikkelt ook het SPECULOOS-project (Search for Planets EClipsing ULtra-cOOl Stars) op basis van onderzoek van mogelijk bewoonbare exoplaneten in transit rond nabije sterren met zeer beperkte massa. In 2020 ontwikkelt dr. Gillon samen met zijn Luikse collega Emmanuelle Javaux een nieuwe onderzoekseenheid binnen de universiteit van Luik. Deze afdeling focust op astrobiologie, een multidisciplinair onderzoeksdomein voor de studie van oorsprong, evolutie, spreiding en toekomst van het leven in het heelal.
Dr. Gillon is tijdens zijn loopbaan reeds meermaals bekroond, o.a. met een prestigieuze Prix Balzan (2017) en de Exceptional Scientific Achievement Medal van de NASA (2018). Het magazine Time nomineert hem in 2017 voor de Top 100 van meest invloedrijke personen op de planeet.
Michaël Gillon deelt zijn passie voor het onderzoek graag met het grote publiek, meer bepaald via conferenties en zijn medewerking aan tv-documentaires. Hij is ook geboeid door science-fictionliteratuur. Michaël Gillon woont met zijn gezin in Anthisnes, een dorpje in de omgeving van Luik. Zijn partner heet Wendy en hij is de trotse vader van Amanda en Lucas.
* * *
Zijn Werken
1995 was de start van een nieuw tijdperk in de moderne astronomie, met de ontdekking van de eerste planeet in een baan rond een andere ster die op onze Zon lijkt. Intussen werden al duizenden van deze 'exoplaneten' ontdekt. Ze onthullen een onverwachte diversiteit van planeetstelsels op galactische schaal. Wij weten nu dat de meeste sterren in de Melkweg – en bij uitbreiding in het heelal – hun eigen reeks planeten hebben, en dat de architectuur van ons zonnestelsel geenszins de norm is. Intussen is overigens ook aangetoond dat rond andere sterren dan onze zon zeer frequent ook planeten met vergelijkbare grootte en massa als onze Aarde cirkelen. Alleen al onze Melkweg telt tientallen miljarden mogelijk bewoonbare werelden. In een nabije toekomst zouden sommige reuzentelescopen zelfs in staat moeten zijn om de atmosferische samenstelling van sommige van deze planeten te peilen, om er meer bepaald te zoeken naar chemische sporen van biologische oorsprong.
Doctor Gillon heeft al meerdere belangrijke bijdragen geleverd tot deze 'revolutie van de exoplaneten'. Hij focust zijn pionierswerk op het subgeheel van de exoplaneten die hun moedersterren 'transiteren' of 'eclipseren'. Zijn motief hiervoor ligt bij de gedetailleerde karakterisering (baan, massa, straal, atmosfeer, enz.) die mogelijk wordt bij deze bijzondere geometrische configuratie.
In 2007, amper een jaar na de afronding van zijn doctoraatsthesis, start hij zijn onderzoek rond 'transits' (d.w.z. de doortocht voor hun ster) van planeten met een lage massa. Dit onderzoek leidt naar de eerste metingen van grootte en densiteit van een exoplaneet die significant kleiner is dan Jupiter, GJ436b, en waarvan de densiteit vergelijkbaar blijkt te zijn met die van Neptunus.
In 2008 bedenkt en ontwikkelt hij het ontwerp van een kleine robottelescoop, geoptimaliseerd voor de meting van transits van exoplaneten. Dit project, dat hij de naam TRAPPIST geeft, wordt in 2010 een feit in Chili, dankzij financiering door het FNRS. Zijn exoplaneetprogramma zou bijdragen tot de ontdekking van meer dan 200 planeten tussen 2010 en 2021.
In 2009 leidt dr. Gillon de eerste gedegen meting van de thermische emissie van een exoplaneet vanop aarde. Hiervoor gebruikt hij de Europese Very Large Telescope in Chili. In diezelfde periode bedenkt hij een nieuw project om mogelijk bewoonbare exoplaneten op te sporen, op basis van gedetailleerde atmosfeerstudies en de opsporing van sporen van leven (biosignaturen). Om deze zeer ambitieuze doelstelling waar te maken wil dit project (door dr. Gillon SPECULOOS gedoopt) focussen op sterren die niet aan bod komen in ander exoplaneetonderzoek, de 'extreem koude dwergsterren' die veel minder massa hebben, kouder zijn dan de Zon en in grootte vergelijkbaar zijn met Jupiter. Terwijl de theorieën op dat moment slechts een beperkt aantal Aarde-achtige planeten rond die miniatuursterren voorspellen, vermoedt Michaël Gillon intuïtief het tegendeel. Hij verwacht dat SPECULOOS misschien wel de eerste exoplaneten zal ontdekken die zich goed lenen voor het zoeken naar sporen van leven.
In 2010 zet Michaël Gillon andermaal een onderzoeksproject naar transits van exoplaneten op, deze keer met de ruimtetelescoop Spitzer van de NASA. In 2011 detecteert dit onderzoek de transit van een 'super-Aarde' in een baan rond de nabije ster 55 Cancri, en meteen ook de rotsachtige samenstelling ervan. Dr. Gillon en zijn team ontdekken tijdens hun voortgezette observaties ook het 'licht' van deze planeet (haar thermische emissie): een première voor een planeet van dergelijke kleine omvang.
In 2011 beslist Michaël Gillon om TRAPPIST te gebruiken als prototype voor SPECULOOS. Hij observeert de ene na de andere van een set van een vijftigtal nabije extreem koude sterren en toont daarmee aan dat het mogelijk is een eventueel bewoonbare 'aarde' te ontdekken rond dit soort sterren. (Zo overtuigt hij ook diverse sponsors voor de financiering van SPECULOOS.)
Einde 2015 is SPECULOOS gedeeltelijk gefinancierd (meer bepaald door de Europese Raad voor Onderzoek) en in volle ontwikkeling, terwijl zijn prototype voor TRAPPIST nog altijd werkt. Zijn waarnemingen onthullen het bestaan van drie planeten met de grootte van de Aarde rond een nabije extreem koude ster. Dr. Gillon herdoopt deze tot 'TRAPPIST-1'. Deze ontdekking bewijst op de meest overtuigende manier de waarde van zijn intuïtie die de basis vormde van het SPECULOOS-project: bij extreem koude sterren horen wel degelijk planeten die in grootte en massa vergelijkbaar zijn met de Aarde. Samen met zijn team zal Michaël Gillon vervolgens in 2016 de observatie van de ster nog intenser doorvoeren. Hun waarnemingen tonen de aanwezigheid aan van nog vier andere planeten van aardgrootte rond de ster. Drie ervan volgen een baan in de 'bewoonbare' zone van de ster; alle zeven lenen zich goed tot gedetailleerd atmosferisch onderzoek met de reuzentelescopen in voorbereiding, namelijk de ruimtetelescoop James Webb (die de NASA in oktober van dit jaar 2021 zou moeten lanceren). Deze ontdekking, die leidt tot de eerste opportuniteit om leven te vinden rond een andere ster dan de Zon, zal een enorme wetenschappelijke en mediatieke impact hebben.
Nog altijd in de periode 2015-2017 onthult het Spitzerprogramma onder leiding van dr. Gillon de rotsachtige samenstelling van twee andere super-aardes in een baan rond een ster op 'slechts' 21 lichtjaren van de Aarde: het gaat om de meest nabije rotsachtige exoplaneten die we tot vandaag kennen.
Vanaf 2018 focust Michaël Gillon nagenoeg uitsluitend op het onderzoek van TRAPPIST-1 en de ontwikkeling van SPECULOOS. Zo leidt hij het exploratieprogramma Red Worlds van de NASA waarbij de waarnemingen van TRAPPIST-1, andermaal uitgevoerd met de ruimtetelescoop Spitzer, het mogelijk maken de massa en de grootte van de zeven andere planeten nauwkeuriger dan ooit te meten. De rotsachtige aard wordt bevestigd en er worden belangrijke dwingende gegevens over hun interne samenstelling ontdekt. Parallel hiermee lanceert hij samen met zijn medewerkster Victoria Meadows (Univ. Washington) een gemeenschappelijk initiatief met als doel de studie van de planeten van het stelsel te optimaliseren met James Webb. Het SPECULOOS-project gaat definitief van start en begint in 2019 met zijn waarnemingen. Het traceert sindsdien voortdurend stelsels die vergelijkbaar zijn met TRAPPIST-1.
Dr. Gillon heeft over het geheel van zijn loopbaan direct meegewerkt aan de ontdekking van honderden exoplaneten en aan de gedetailleerde studie van tientallen ervan. Hij staat aan de wieg van meerdere belangrijke ontdekkingen in de exoplanetologie, meer bepaald die van de eerste mogelijk bewoonbare exoplaneten die zich goed lenen tot onderzoek naar chemische sporen van leven.Zijn werk vormt een belangrijke nieuwe stap naar het antwoord op de boeiende vraag omtrent het bestaan van ander leven, ergens in het heelal.
* * *
Jury verslag (19 april 2021)
The 2021 Francqui Prize is awarded to Michaël Gillon for his pioneering discoveries in astronomy, in particular in the fields of comparative exoplanetology and astrobiology. His research on transiting exoplanets led to the discovery of many earth-sized planets, in particular the famous TRAPPIST-1 system, which hosts seven terrestrial planets allowing us to investigate potentially habitable worlds far beyond our own.
In 1995, a new era of modern astronomy started with the discovery of the first planet in orbit around another Sun-like star. Since then, more than 4000 of these exoplanets have been discovered revealing an unexpected diversity of planetary systems. Michaël Gillon is a world leader in the second wave of this "exoplanet revolution", most notably in the finding and characterization of low-mass planets like Earth by the transiting technique.
Transiting exoplanets are planets in other solar systems that happen to be aligned relative to us such that the planets pass in front of their central star and block a part of its light. The blocking of light by the planet and its atmosphere can be studied from space as well as from the ground, and Dr. Gillon has done both. These systems allow us to thoroughly characterize large samples of terrestrial worlds, assess their potential habitability, and even to probe their atmospheric compositions for chemical signs of life.
The TRAPPIST-1 exoplanetary system is a compact analog of the inner solar systemconsisting of seven Earth-sized planets around a faint low-mass star, of which three lie in the habitable zone. Located 40 light years from earth, these exoplanets only need a few days up to two weeks to complete one orbit around their star. Dr. Gillon provided the first mass and radius measurements of these habitable Earth-sized planets and thus their bulk densities
and overall composition. His discovery has catalyzed a flurry of new studies and has captured the attention of people around the globe, not only experts, but also the general public.
These findings did not happen by chance, but resulted from a clear strategy and a focused observational and instrumentation program. In 2007, well before the TRAPPIST-1 discovery, Dr. Gillon launched a search for the transits of low-mass planets previously detected by radial velocity measurements. He developed techniques for extreme precision photometry from the ground using small telescopes. This project led to the first size measurement of an exoplanet significantly smaller than Jupiter and with a density similar to Neptune. In 2011 he and his colleagues found the transit of a "super-Earth" orbiting a naked-eye star and directly detected light from a rocky exoplanet. Dr. Gillon continues to play an important role in many current and future space-based transiting exoplanet programs on the ground and in space. He led the relatively low-cost TRAPPIST project and the 2017 publication of its most famous result. This signature discovery has inspired billions of people around the world and changed how we think about life and our place in the universe.
In deze jury zetelden :
Professor Dr. Ben L. Feringa , born May 18, 1951 in Barger-Compascuum, is a Dutch chemist winner of the 2016 Nobel Prize in Chemistry, which he won for his work with Jean-Pierre Sauvage and James Fraser Stoddart on the design and synthesis of molecular machines.  Jacobus van't Hoff Distinguished Professor Molecular Sciences.

Voorzitter
en
Professor Dr. Matthias Beller is born in Gudensberg (Germany) in 1962, obtained his PhD in 1989 working with Lutz F. Tietze at the University of Go¨ttingen. After one year of post-doctoral research with Barry Sharpless at MIT (USA), from 1991 to 1995 he worked at Hoechst AG in Frankfurt. Then, he started his academic career at TU Munich. In 1998, he relocated to Rostock to head the LeibnizInstitute for Catalysis. Matthias Beller is also Vice-president of the Leibniz Association and a member of 3 German Academies of Sciences including the German National Academia ''Leopoldina''. The research of his group has been published in more than 1000 original articles and reviews and focused on applying homogeneous and heterogeneous catalysis for the synthesis of fine/bulk chemicals as well as energy technologies.
Robbert Dijkgraaf is director and Leon Levy Professor at the Institute for Advanced Study and distinguished university professor of mathematical physics at the University of Amsterdam. His research focusses on the interface between mathematics and particle physics. He is past president of the Royal Netherlands Academy of Arts and Sciences and the InterAcademy Partnership, the
global alliance of national academies of science. He was awarded the Spinoza Prize and holds honorary degrees from Nijmegen, Leiden and Brussels. He is a member of the American Academy of Arts and Sciences and the American Philosophical Society, and a foreign member of the Royal Society of Edinburgh and the Royal Flemish Academy of Belgium for Science and the Arts.
Heino Falcke is Professor of Astroparticle Physics and Radio Astronomy at the Institute for Mathematics, Astronomy and Particle Physics (IMAPP) of the Faculty of Science at Radboud University in Nijmegen and member of the Royal Netherlands Academy of Arts and Sciences (KNAW). He studies black holes and high-energy elementary particles, using the entire range of theoretical, computational, observational and experimental astrophysics.  In 2000 he proposed to image the shadow of a black hole with radio telescopes and later played a leading role in the Event Horizon Telescope collaboration, presenting the first image of a black hole. Awards that he received include the Netherlands Spinoza Prize, the Henry Draper medal of the US National Academy of Science, the Academy Award of the Berlin-Brandenburg Academy of Sciences and Humanities, and two ERG grants.
Professor Sir Richard Friend FRS is at the Department of Physics at the University of Cambridge. His research encompasses the physics, materials science and engineering of semiconductor devices made with carbon-based semiconductors, particularly polymers.  His research advances have shown that carbon-based semiconductors have significant applications in LEDs, solar cells, lasers, and electronics.   These have been developed and exploited through a number of spin-off companies.  His current research interests are directed to novel schemes that seek to improve the performance and cost of solar cells.
Professor Friend is a Fellow of the Royal Society and of the Royal Academy of Engineering, and a Foreign Member of the US National Academy of Engineering.  He has received many international awards for his research, including Laureate of the Millennium Prize for Technology (2010) the Harvey Prize (2011) of the Israel Institute of Technology and the von Hippel Award of the Materials Research Society (2015).  He was knighted for « Services to Physics » in the Queen's Birthday Honours List, 2003.
Professor Jianqing Fan is Frederick L. Moore Professor, Princeton University.   He was the past president of the Institute of Mathematical Statistics and International Chinese Statistical Association. He is co-editing  Journal of  Business and Economics Statistics and was the co-editor of The Annals of Statistics,  Probability Theory and Related Fields, and Journal of Econometrics.    His published work on statistics, machine learning, economics, finance, and computational biology has been recognized by numerous awards and honors.
Professor Laura Kiessling earned a BS in Chemistry from the Massachusetts Institute of Technology and a Ph.D. in Organic Chemistry from Yale University.  After two years at the California Institute of Technology as an American Cancer Society Postdoctoral Fellow, she joined the faculty of the University of Wisconsin, Madison in 1991. In 2017, she returned to MIT as the Novartis Professor of Chemistry and Member of the Broad Institute. Her interdisciplinary research interests have advanced our understanding of cell surface recognition processes, especially those involving protein-glycan interactions. Laura is a Fellow of the American Association for the Advancement of Science, and a Member of the American Academy of Microbiology, and National Academy of Sciences.  She is the current and founding Editor–In-Chief of ACS Chemical Biology. Her honors and awards include a MacArthur Foundation Fellowship, a Guggenheim Fellowship, the ACS Gibbs Medal, the Tetrahedron Prize, and the Centenary Prize from the Royal Society of Chemistry.
Mathieu Luisier is Associate Professor of Computational Nanoelectronics in the Department of Information Technology and Electrical Engineering of ETH Zurich, Switzerland. He earned his diplom in electrical engineering in 2003 and his Ph.D. in the same field in 2007, both from ETH Zurich. In 2008 he joined the Network for Computational Nanotechnology at Purdue University as a Research Assistant Professor before returning to ETH Zurich in 2011. His research focuses on the atomistic modeling and the study of the fundamental properties of nanoscale devices, e.g. ultra-scaled transistors, memories, or photovoltaic cells. Prof. Luisier was the recipient of an ERC Starting Grant in 2013 and of the ACM Gordon Bell Prize in 2019 for outstanding achievement in high-performance computing.
Professor Jens K. Nørskov holds the Villum Kann Rasumussen professorship at the Technical University of Demark and he is chairing the Danish National Research Foundation. His research aims at developing theoretical methods and concepts to understand and predict properties of materials focusing primarily on catalysis and sustainable energy solutions. He has received a number of awards and honors, and he is a member of the Royal Danish Academy of Science and Letters, the Danish Academy of Engineering (ATV), and a foreign member of the US National Academy of Engineering.
 Richard J. Samworth is Professor of Statistical Science and Director of the Statistical Laboratory at the University of Cambridge.  His research interests are in nonparametric and high-dimensional Statistics.  He received the COPSS Presidents' Award in 2018, and currently serves as co-editor of the Annals of Statistics.
Ewine van Dishoeck is Professor of molecular astrophysics at Leiden University, the Netherlands, following positions at Harvard, Princeton and Caltech.  Her many awards include the 2018 Kavli Prize for Astrophysics and the 2018 Watson Medal of the US-NAS.  She is a Member or Foreign Associate of several academies, including that of the Netherlands, USA, Germany and Norway. From 2018-2021, van Dishoeck serves as the president of the International Astronomical Union (IAU).
Professor Dr. Martin Wolf received his PhD for studies on surface physics with Gerhard Ertl. After postdoc stays in Austin, Berlin and Yorktown Heights he was appointed in 2000 as full professor in experimental physics at the Freie Universität Berlin and since 2008 he has been director of the Physical Chemistry department at the Fritz Haber Institute of the Max Planck Soceity. His research focuses on the dynamics of elementary excitations at surfaces, interfaces and in solids, ultrafast photoinduced dynamics and transient electronic structure in correlated materials, interfacial electron transfer and vibrational spectroscopy at interfaces.
Leden
* * *