Rapport Jury Philippe LEMEY
Plechtige uitreiking van de Francqui-Collen Prijzen in het Paleis der Academiën op 6 juni 2023 (enkel op uitnodiging)
Loopbaan – Werken – Jury verslag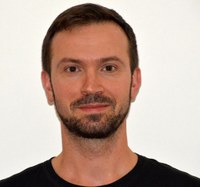 Klinisch & Translationeel Onderzoek
Zijn Loopbaan
Philippe Lemey werd geboren in Kortrijk op 10 augustus 1977. Na middelbare studies aan het St.-Jozefsinstituut in Kortrijk, studeerde hij Farmaceutische Wetenschappen aan de KU Leuven waar hij afstudeerde met de grote onderscheiding in 2000. Tijdens een stage aan de afdeling Klinische en Epidemiologische Virologie in het Rega Instituut onder supervisie van Prof. Marc Van Ranst groeide zijn interesse in virussen en raakte hij ook gefascineerd door de rol van bioinformatica in genetisch onderzoek. Daarom besloot hij een doctoraat te starten aan deze afdeling, ditmaal onder supervisie van Prof. Anne-Mieke Vandamme, waarvoor een beurs werd toegekend door het toenmalige agentschap voor Innovatie door Wetenschap en Technologie (IWT). Philippe bestudeerde de evolutie van humane retrovirussen en ontrafelde onder meer de oorsprong en epidemische verpreiding van specifieke varianten van het humaan immunodeficiencie virus (HIV). Om zijn kennis in computationele analyses verder te onwikkelen, combineerde hij zijn doctoraat met de 'Master of Bioinformatics' opleiding aan de KU Leuven.
Na het afleggen van het doctoraat in 2005, zette hij zijn loopbaan verder als postdoctoraal onderzoeker aan het Departement Zoologie, Universiteit van Oxford, eerst ondersteund door een beurs van de Europese Organisatie voor Moleculaire Biologie (EMBO) en vervolgens door een Europese Marie-Curie beurs. In deze nieuwe omgeving, legde hij zich nog meer toe op computationele analyses van diverse virussen en begon hij te werken aan de tweede editie van 'The Phylogenetic Handbook', een uitgebreid boek over de theorie en praktijk van fylogenetische en populatiegenetische analyses dat uiteindelijk in 2009 werd gepubliceerd en uitgroeide tot een referentiewerk in zijn discipline. Vooraleer Philippe terugkeerde naar het Rega Instituut, werd hij lid van het 'Isaac Newton Institute for Mathematical Sciences' in Cambridge tijdens het 'Phylogenetics Programme' in 2007.
Na een postdoctoraal mandaat ondersteund door het Fonds voor Wetenschappelijk Onderzoek – Vlaanderen (FWO) aan de KU Leuven, starte Philippe in 2010 zijn eigen multidisciplinaire onderzoeksgroep aan het Rega Instituut. Ondersteund door een ERC starting grant van de Europese onderzoeksraad ontwikkelde hij met zijn team computationele methodologie om de verspreiding van virussen in kaart te brengen op basis van hun genetische informatie. Met behulp van een ERC consolidator grant werd dit nog verder uitgebreid en toegepast op verscheidene virussen zoals ebola, rabies, influenza en SARS-CoV-2 en werden ook moleculair biologische technieken geintegreerd om virale genetische data te produceren. Het belang van dit werk voor moleculaire epidemiologie en epidemische respons zorgde voor belangrijke translationele impact. Philippe's onderzoek werd beloond door de prijs 'Dr. Luc Broeckaert en Mevr. Annie Depreeuw 2014′ toegekend door de Koninklijke Academie van de Geneeskunde, de prijs van het 'Centre d'Études Princess Joséphine-Charlotte' (2017), en de internationale 'Mitchell Prize' in Bayesiaanse statistiek.
Philippe Lemey is gehuwd met Lieve Van Hoovels, Apotheker Klinisch Bioloog. Ze hebben twee geweldige dochters, Hanne (13 jaar) en Margot (9 jaar).
* * *
Zijn Werken
Waar komen nieuwe virussen vandaan en hoe worden we eraan blootgesteld? Hoe passen ze zich aan in een nieuwe gastheer en hoe ontwijken ze immuun responses? Op welke manier evolueren ze en verspreiden ze zich? Dit zijn enkele van de vragen waardoor Philippe werd aangetrokken om virussen te bestuderen op basis van hun genetische informatie. Initieel had hij een sterke focus op HIV, en met behulp van evolutionaire reconstructies toonde hij aan waar, wanneer en onder welke omstandigheden de twee voornaamste types van dit virus zich begonnen te verspreiden in de humane populatie. Hij toonde ook aan hoe de evolutie van het virus binnen de gastheer gerelateerd is met ziekteontwikkeling.
Door dit onderzoek en de opkomst van nieuwe technologieën om genetische data te bekomen, werd Philippe gemotiveerd om nieuwe statistische en computationele technieken te ontwikkelen die een maximale hoeveelheid aan informatie op een accurate manier kunnen extraheren uit sequentie data. Met nieuwe modellen die geïmplementeerd werden in een populaire software toonde hij met zijn team aan hoe de verspreiding van virussen in detail in kaart kan gebracht worden. Bovendien werden nieuwe data integratie methodes toegepast om de factoren te identificeren die aan de basis liggen van hun verspreiding. Deze methodologie was breed toepasbaar en liet bijvoorbeeld toe om de wereldwijde verspreiding van het seizoensgebonden griepvirus te ontrafelen, en het verschil in succes van verschillende varianten te relateren aan de manier waarop ze evolueren. De methodes konden ook toegepast worden om een genomische anatomie van de Ebolavirus uitbraak te creëren en om aan te tonen hoe het virus zich op grote schaal kon verspreiden. In een vervolgwerk illustreerde hij hoe dergelijke technieken ook toelaten om interventiestrategieën te evalueren. Toen dit virus opnieuw opdook in 2021, hielp Philippe met evolutionaire analyses aantonen dat dit te wijten was aan een persistente infectie met gereduceerde replicatie of latentie.
Tijdens de Ebola uitbraak in West-Afrika werd duidelijk dat virale genomische informatie een belangrijke rol kan spelen in de epidemische response. Philippe's team deed daarom verder methodologisch onderzoek en ontwikkelde een manier om nieuwe informatie op een efficiënte manier te incorporeren in evolutionaire reconstructies. Daarnaast ondersteunde hij ook moleculaire surveillance met behulp van draagbare sequeneringstechnologie. Een voorbeeld hiervan is een samenwerking met het Bernard-Nocht Instituut in Hamburg die als doel had om de verhoogde incidentie van het Lassavirus in Nigeria te verklaren. Dit kon teruggebracht worden op een  verhoogde 'spill-over' van het knaagdierreservoir en was dus niet te wijten aan humane overdracht van bepaalde virusstammen. Dit bood belangrijke informatie voor de lokale gezondheidsinstanties om de verspreiding van Lassa in te perken.
De COVID-19 pandemie heeft nogmaals aangetoond hoe kwetsbaar onze maatschappij is ten opzichte van nieuwe virussen en welke inspanningen er nodig zijn om deze te bestrijden. Philippe heeft verscheidene bijdragen geleverd tot onze kennis van het SARS-CoV-2 virus en hoe deze epidemie is ontstaan. Samen met collega's werd de evolutiegeschiedenis van dit virus in het vleermuisreservoir ontrafelt en ontkrachte hij complottheorieën over de oorsprong van het virus. Philippe ontwikkelde nieuwe methodes om reishistorie en humane mobiliteit te integreren in evolutionaire reconstructies. Met behulp van deze bracht hij de vroege wereldwijde verspreiding van het virus in kaart en toonde hij vervolgens aan hoe de tweede golf in Europa tot stand kwam door een groot aantal nieuwe introducties geassocieerd met het reizen tijdens de zomervakantie. Daarnaast bood Philippe ook een ondersteunde rol bij het onderzoek van collegas, zoals het vaccinonderzoek aan het Rega Instituut, en bood hij advies aan de Wereldgezondheidsorganisatie. Philippe vindt het ook belangrijk dat andere onderzoekers, en vooral de nieuwe generatie aan onderzoekers, toegang hebben tot de methodes die zijn team ontwikkelt en daarom ondersteunt hij verschillende internationale workshops.
* * *
Jury verslag (25 april 2023)
The 2023 Francqui Prize in Clinical and Translational Research is awarded to Professor Philippe Lemey who is undoubtedly among a handful of global leaders in the field of computational biology specialised in viral phylogeny and phylodynamic analysis. Trained both in pharmaceutical sciences and in bioinformatics, he combines insights in infection biology with the development of computational tools to understand origins and evolution of viruses of global public health importance. Basic insights from his fundamental research on viral replication processes have been incorporated in the development of software tools that within a short period of time have become the working horses of virology, viral bioinformatics, and viral epidemiology.  He has developed and co-developed key bioinformatics tools that have revolutionised the field of virology and our understanding of how viruses evolve, spread, cause impact and can be controlled.
In addition to its methodological value, his work has facilitated broad uptake, thanks to the user friendliness of the software produced, the open sharing of code, and his highly valued courses. Philippe Lemey has been a core teacher, training the new leaders in this field globally. His publication record testifies to the global impact of his work, addressing key questions in our understanding of emergence, spread, evolution and effectiveness of control measures of several major viral pathogens. These include the viruses causing Covid-19, dengue fever, Ebola haemorrhagic fever, acquired human immunodeficiency syndrome, Lassa fever, measles, rabies, rinderpest, swine influenza, West Nile fever and yellow fever.
The field of viral genomics is one of the most rapidly evolving fields in science, raising important new challenges that require fundamentally new ways of exploring viral evolution. Philippe Lemey is well positioned to continue to lead the field in a new era of big data applications needed to understand virology now and in the future.
In deze jury zetelden :
Hans Clevers obtained his MD degree in 1984 and his PhD degree in 1985 from the University Utrecht, the Netherlands. His postdoctoral work (1986-1989) was done with Cox Terhorst at the Dana-Farber Cancer Institute of Harvard University, Boston, USA. From 1991-2002 Hans Clevers was Professor in Immunology at the University Utrecht and, since 2002, Professor in
Molecular Genetics. From 2002-2012 he was director of the Hubrecht Institute in Utrecht. From 2012-2015 he was President of the Royal Netherlands Academy of Arts and Sciences (KNAW). From June 2015-2019 he was director Research of the Princess Máxima Center for pediatric oncology. Since March 2022, Hans Clevers is Head of Pharma Research and Early Development (pRED) of Roche, Basel Switzerland.
Voorzitter
Azad Bonni serves in an executive leadership role at Roche as Senior Vice President and Global Head of Neuroscience and Rare Diseases in pRED. He oversees a rich and differentiated portfolio from research to completion of Phase 2 trials. Before Roche, Azad was Head of Neuroscience at Washington University in St Louis, and prior to that Professor of Neurobiology at Harvard. Azad is an international leader in neuroscience who has made fundamental discoveries on mechanisms of neuronal connectivity in the brain. He received his MD at Queen's University, neurology residency at McGill University, and PhD and postdoctoral training at Harvard University. Azad has trained over 40 exceptional graduate students and postdoctoral fellows, many of whom have launched their own independent laboratories at prestigious institutions. He has received numerous honors and awards including election to the American Association for the Advancement of Science, Royal Society of Canada, and National Academy of Medicine.
Boudewijn Burgering is professor in Signal transduction at the Center of Molecular Medicine ( University Medical Center Utrecht, the Netherlands ). His research revolves around the role of PI3K signaling in disease and ageing, with a focus on the role of the kinase PKB/AKT and the transcription factor family FOXO. He made some high impact discoveries in this field and is EMBO member and member of Dutch consortium Oncode, acting on various reviewing committees, including ERC and organizer of international meetings.
Anne Grapin-Botton studied at Ecole Normale Superieure (Cachan) and University Paris 7. She obtained a PhD from University Paris 6, focusing on nervous system development and studied endoderm development as a post-doc in Harvard University. Anne Grapin-Botton and her group investigate the impact of the cellular and organ architecture on the cells' fate choices and how single cells act in a community to generate an organ. To do so, they use mouse genetics, live imaging in 3D and they developed 3D in vitro "organoid" culture systems modelling development. More recently they used human in vitro stem cell models investigate human development. These studies are intended to gain insight into human syndromes impairing pancreas development and they guide the generation of replacement beta cells for Diabetes therapy.
Guido Kroemer is currently Professor at the Faculty of Medicine of the University of Paris-Cité, Director of the research team « Metabolism, Cancer and Immunity » of the French Medical Research Council (INSERM), Director of the Metabolomics and Cell Biology platforms of the Gustave Roussy Comprehensive Cancer Center, and Hospital Practitioner at the Hôpital Européen George Pompidou, Paris, France. Dr. Kroemer's work focuses on the pathophysiological implications of cell stress and death in the context of aging, cancer and inflammation. »
Akiko Iwasaki, Ph.D. is a Sterling Professor of Immunobiology at the Yale University School of Medicine. Her research focuses on the mechanisms of immune defense against viruses at mucosal surfaces, which are a major site of entry for infectious agents. Professor Iwasaki received her Ph.D. in Immunology from the University of Toronto and completed her postdoctoral training with the National Institutes of Health before joining Yale's faculty in 2000. She has received many awards and honors and has been a Howard Hughes Medical Institute Investigator since 2014. She was elected to the National Academy of Sciences in 2018, to the National Academy of Medicine in 2019 and to the American Academy of Arts and Sciences in 2021. Professor Iwasaki has been a leading scientific voice during the COVID-19 pandemic and is also well known for her Twitter advocacy on women and underrepresented minorities in the science and medicine fields and has been named to the 2023 STATUS list of the ultimate list of leaders in life sciences.
Marion Koopmans is director of the Department of Viroscience at Erasmus Medical Centre in The Netherlands, the WHO collaborating centre for Emerging Infectious Diseases (EID), director for EID of the Netherlands Centre for One Health NCOH and scientific director of the Pandemic and Disaster Preparedness Centre in Rotterdam/Delft, The Netherlands.
Her research focuses on emerging infections with special emphasis on unravelling pathways of disease emergence and spread at the human animal interface. Koopmans coordinates the EU funded consortium VEO, which develops risk based innovative early warning surveillance in a One Health context, and is deputy coordinator of a recently awarded HERA funded network of centres of excellence for EID research preparedness.
Ton Logtenberg is an immunologist and professor in the Center for Translational Immunology in the University Medical Center Utrecht, The Netherlands. Ton is the founder and former President and CEO of Merus, a Nasdaq listed clinical-stage biotechnology company advancing targeted treatments based on multi-specific antibodies to address the unmet needs of cancer patients. He is the Chairman of the Board of biotechnology companies Synox Therapeutics and Mestag Therapeutics and a Board member of the Forbion European Acquisition Corporation. Ton is a Venture Parture at Forbion Capital Partners, a Dutch VC firm that invests in Life Science companies.
Tamara Schikowski is an Environmental Epidemiologist and is currently head of the research group 'Environmental epidemiology of lung, brain, and skin aging' at the IUF-Leibniz Research Institute of Environmental Medicine in Duesseldorf, Germany.
Her research is directed at understanding how long-term exposure to air pollution and other environmental influences can cause diseases in populations, in particular in vulnerable groups such as the elderly and children. She is PI of several large-scale cohort studies and is involved in many national and international projects in China, India, and Japan. She is an executive board member of the German National Cohort (NAKO).
Leden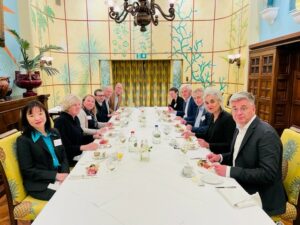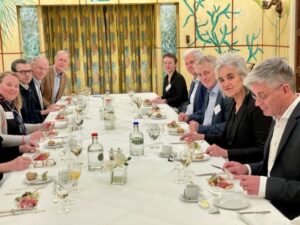 * * *