Rapport Jury Sarah-Maria Fendt
Plechtige uitreiking van de Francqui-Collen Prijzen 2023 in het Paleis der Academiën op 6 juni
(enkel op uitnodiging)
Loopbaan – Werken – Jury verslag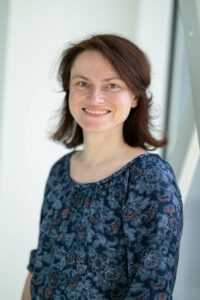 Fundamenteel Biomedisch Onderzoek
Haar loopbaan
Sarah-Maria Fendt werd geboren in 1980 in Krumbach en groeide op in Oberrohr, een klein dorpje op het platteland van Beieren in Duitsland. Sarah-Maria raakte tijdens de middelbare school geïnteresseerd in wetenschappen, toen ze wiskunde en scheikunde als hoofdvakken koos. Sarah-Maria begon Scheikundige Technologie te studeren aan de Technische Universiteit in München (TUM), maar besefte tijdens haar eerste jaar dat ze meer geïnteresseerd was in levenswetenschappen. Daarom veranderde ze van richting en schreef ze zich in voor biochemie als hoofdvak aan TUM en deed ze haar masterscriptie aan de Deense Technische Universiteit (DTU) in Lyngby. Met haar doctoraat aan de afdeling Moleculaire Systeembiologie aan de ETH (Eidgenössische Technische Hochschule) ( Zürich in Zwitserland werd ze een expert in metabolisme en multi-omics data. Na haar doctoraat besloot ze haar passie voor biochemie en systeembiologie te combineren met haar interesse in medische biologie, in het bijzonder kankeronderzoek, en deed ze postdoctoraal onderzoek aan de Harvard Medical School in Boston en het Massachusetts Institute of Technology (MIT) in Cambridge, VS om het metabolisme van kanker te bestuderen. Haar postdoctoraal onderzoek werd gefinancierd door de Duitse Research Foundation (DFG) en ze ontving een AACR-lidmaatschapsprijs (American Association for Cancer Research) ter ondersteuning van beginnende onderzoekers in opleiding voor haar impactvolle postdoctorale onderzoek aan het MIT.
In 2013 verhuisde Sarah-Maria naar België om haar onafhankelijke laboratorium op te starten op de afdeling Oncologie in Leuven en het VIB-KU Leuven Centrum voor Kankerbiologie met financiering van een Fonds Wetenschappelijk Onderzoek (FWO)-Odysseus II-beurs. Ze richtte haar onderzoek op de vorming van metastasen, de belangrijkste doodsoorzaak bij kankerpatiënten. In 2019 wordt ze benoemd tot universitair hoofddocent en in 2021 tot hoogleraar. Haar onderzoek leidde tot meerdere paradigmaverschuivende onderzoeksresultaten en ze won verschillende prijzen, zoals de European Molecular Biology Organization (EMBO) Gold Medal (2020), de Baillet Latour Grant for Medical Research (2020), de Beug Prize for Metastasis Research (Beug Stiftung) (2021) en de 51e ARC Leopold Griffuel Award (2023, jongste prijswinnaar). Bovendien werd ze in 2022 verkozen tot EMBO-lid. Daarnaast ontving ze drie onderzoeksbeurzen van Marie Curie Actions en de European Research Council: Marie Curie Career Integration Grant (2013-2017), ERC-Consolidator Grant (2018-2023). Proof of Concept Grant (2023-2024).
Sarah-Maria is gehuwd met Simon Kuhn, professor Scheikundige Technologie aan de KU Leuven, en ze wonen samen in Leuven.
* * *
Haar werken
Sarah-Maria Fendt en haar team onderzoeken kankermetastasen als een stofwisselingsziekte.
Metastasevorming is de verspreiding van kankercellen naar verre organen. Helaas is er vandaag geen geneesmiddel om uitzaaiingen bij patiënten effectief te voorkomen of te behandelen. Metastasevorming blijft dus de belangrijkste doodsoorzaak bij kankerpatiënten.
Metabolisme is een cellulair netwerk van biochemische reacties dat nodig is om voedingsstoffen om te zetten in energie en andere producten, metabolieten genaamd, die nodig zijn om de cellen in ons lichaam te laten functioneren.
Het is al zo'n 100 jaar bekend dat kankercellen een gewijzigde stofwisseling hebben. Maar het huidige idee was dat dit grotendeels een hyperactief metabolisme is dat de ongecontroleerde proliferatie van kankercellen mogelijk maakt. Sarah-Maria had het paradigmaverschuivende idee dat kankercellen anders eten, wanneer ze zich naar andere organen verspreiden en dat we ons kunnen richten op hoe ze eten om het verloop van kanker naar metastasevorming te behandelen. Concreet ontdekte Sarah-Maria met haar team dat de lokale omgeving en het proces van verspreiding naar verre organen bepalen welke voedingsstoffen kankercellen eten en dat kankercellen afhankelijk zijn van deze voedingsstoffen voor de vorming van metastasen.
Bovendien geloofde men dat kankercellen vooral voedingsstoffen nodig hebben om voldoende energie en bouwstenen voor groei te hebben, zoals je elektriciteit en stenen nodig hebt om een huis te bouwen. Sarah-Maria ontdekte dat voedingsstoffen en hun verwerking ook signalen kunnen afgeven en het gedrag van uitzaaiende kankercellen kunnen reguleren, zoals een architect coördineert hoe en waar een huis wordt gebouwd.
Bovendien onderzoekt Sarah-Maria hoe de fysiologie van de patiënt, inclusief voeding, lichaamssamenstelling of de aanwezigheid van primaire tumoren, het metabolisme van uitzaaiende kankercellen bepaalt. Sarah-Maria en haar team ontdekten dat de aanwezigheid van een primaire tumor en bepaalde componenten van ons dieet de voedingsomgeving van verre organen voorbereiden op de komst van kankercellen. Deze ontdekkingen kunnen in de toekomst tot farmaceutische of dieetbehandelingen leiden die organen beschermen tegen de vorming van uitzaaiingen.
Zo bieden Sarah-Maria en haar team nieuwe mechanismen die ons in staat stellen te begrijpen hoe kankercellen voedingsstoffen gebruiken om zich te verspreiden en hoe dit kan worden benut om de vorming van metastasen te remmen.
* * *
Jury verslag (25 april 2023)
The 2023 Francqui Prize in Fundamental Medical Research is awarded to Professor Sarah-Maria Fendt for her seminal contributions to the understanding of the role of metabolism in tumour metastasis. Although gene mutations and changes in protein activity are considered predominant drivers of the metastatic process, the plasticity of metabolism in cancer cells has gained more attention as an important component of tumour resistance to therapy. Sarah-Maria Fendt shows that cancer cells are dynamic and can change their metabolism depending on their stage, starting in the primary tumour, disseminating through the circulation and seeding in distant organs.
Among her remarkable achievements, Sarah-Maria Fendt has provided compelling evidence of cell metabolism as an important contributor to the initiation of metastasis from diverse tumors in mice and also in patients. She notably demonstrated that blood vessels regulate the levels of the metabolic enzyme phosphoglycerate dehydrogenase (PHGDH) and thereby facilitate the invasion of blood vessels by disseminating tumor cells.  Moreover, she has discovered several metabolic connections that were previously unknown. These provide a new perspective on the role of metabolism in metastatic cells leaving the primary tumour. Moreover, she has shown that when the tumour cells reach a new organ, this new niche  can change their metabolism. This uniqueness could be used to specifically target these cells.
Taken together, the work of Sarah-Maria Fendt has received world-wide recognition and offers hope for the future development of therapies for metastatic cancer.
In deze jury zetelden :
Hans Clevers obtained his MD degree in 1984 and his PhD degree in 1985 from the University Utrecht, the Netherlands. His postdoctoral work (1986-1989) was done with Cox Terhorst at the Dana-Farber Cancer Institute of Harvard University, Boston, USA. From 1991-2002 Hans Clevers was Professor in Immunology at the University Utrecht and, since 2002, Professor in
Molecular Genetics. From 2002-2012 he was director of the Hubrecht Institute in Utrecht. From 2012-2015 he was President of the Royal Netherlands Academy of Arts and Sciences (KNAW). From June 2015-2019 he was director Research of the Princess Máxima Center for pediatric oncology. Since March 2022, Hans Clevers is Head of Pharma Research and Early Development (pRED) of Roche, Basel Switzerland.
Voorzitter
en
Azad Bonni serves in an executive leadership role at Roche as Senior Vice President and Global Head of Neuroscience and Rare Diseases in pRED. He oversees a rich and differentiated portfolio from research to completion of Phase 2 trials. Before Roche, Azad was Head of Neuroscience at Washington University in St Louis, and prior to that Professor of Neurobiology at Harvard. Azad is an international leader in neuroscience who has made fundamental discoveries on mechanisms of neuronal connectivity in the brain. He received his MD at Queen's University, neurology residency at McGill University, and PhD and postdoctoral training at Harvard University. Azad has trained over 40 exceptional graduate students and postdoctoral fellows, many of whom have launched their own independent laboratories at prestigious institutions. He has received numerous honors and awards including election to the American Association for the Advancement of Science, Royal Society of Canada, and National Academy of Medicine.
Boudewijn Burgering is professor in Signal transduction at the Center of Molecular Medicine ( University Medical Center Utrecht, the Netherlands ). His research revolves around the role of PI3K signaling in disease and ageing, with a focus on the role of the kinase PKB/AKT and the transcription factor family FOXO. He made some high impact discoveries in this field and is EMBO member and member of Dutch consortium Oncode, acting on various reviewing committees, including ERC and organizer of international meetings.
Anne Grapin-Botton studied at Ecole Normale Superieure (Cachan) and University Paris 7. She obtained a PhD from University Paris 6, focusing on nervous system development and studied endoderm development as a post-doc in Harvard University. Anne Grapin-Botton and her group investigate the impact of the cellular and organ architecture on the cells' fate choices and how single cells act in a community to generate an organ. To do so, they use mouse genetics, live imaging in 3D and they developed 3D in vitro "organoid" culture systems modelling development. More recently they used human in vitro stem cell models investigate human development. These studies are intended to gain insight into human syndromes impairing pancreas development and they guide the generation of replacement beta cells for Diabetes therapy.
Guido Kroemer is currently Professor at the Faculty of Medicine of the University of Paris-Cité, Director of the research team « Metabolism, Cancer and Immunity » of the French Medical Research Council (INSERM), Director of the Metabolomics and Cell Biology platforms of the Gustave Roussy Comprehensive Cancer Center, and Hospital Practitioner at the Hôpital Européen George Pompidou, Paris, France. Dr. Kroemer's work focuses on the pathophysiological implications of cell stress and death in the context of aging, cancer and inflammation. »
Akiko Iwasaki, Ph.D. is a Sterling Professor of Immunobiology at the Yale University School of Medicine. Her research focuses on the mechanisms of immune defense against viruses at mucosal surfaces, which are a major site of entry for infectious agents. Professor Iwasaki received her Ph.D. in Immunology from the University of Toronto and completed her postdoctoral training with the National Institutes of Health before joining Yale's faculty in 2000. She has received many awards and honors and has been a Howard Hughes Medical Institute Investigator since 2014. She was elected to the National Academy of Sciences in 2018, to the National Academy of Medicine in 2019 and to the American Academy of Arts and Sciences in 2021. Professor Iwasaki has been a leading scientific voice during the COVID-19 pandemic and is also well known for her Twitter advocacy on women and underrepresented minorities in the science and medicine fields and has been named to the 2023 STATUS list of the ultimate list of leaders in life sciences.
Marion Koopmans is director of the Department of Viroscience at Erasmus Medical Centre in The Netherlands, the WHO collaborating centre for Emerging Infectious Diseases (EID), director for EID of the Netherlands Centre for One Health NCOH and scientific director of the Pandemic and Disaster Preparedness Centre in Rotterdam/Delft, The Netherlands.
Her research focuses on emerging infections with special emphasis on unravelling pathways of disease emergence and spread at the human animal interface. Koopmans coordinates the EU funded consortium VEO, which develops risk based innovative early warning surveillance in a One Health context, and is deputy coordinator of a recently awarded HERA funded network of centres of excellence for EID research preparedness.
Ton Logtenberg is an immunologist and professor in the Center for Translational Immunology in the University Medical Center Utrecht, The Netherlands. Ton is the founder and former President and CEO of Merus, a Nasdaq listed clinical-stage biotechnology company advancing targeted treatments based on multi-specific antibodies to address the unmet needs of cancer patients. He is the Chairman of the Board of biotechnology companies Synox Therapeutics and Mestag Therapeutics and a Board member of the Forbion European Acquisition Corporation. Ton is a Venture Parture at Forbion Capital Partners, a Dutch VC firm that invests in Life Science companies.
Tamara Schikowski is an Environmental Epidemiologist and is currently head of the research group 'Environmental epidemiology of lung, brain, and skin aging' at the IUF-Leibniz Research Institute of Environmental Medicine in Duesseldorf, Germany.
Her research is directed at understanding how long-term exposure to air pollution and other environmental influences can cause diseases in populations, in particular in vulnerable groups such as the elderly and children. She is PI of several large-scale cohort studies and is involved in many national and international projects in China, India, and Japan. She is an executive board member of the German National Cohort (NAKO).
Leden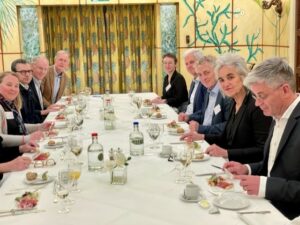 * * *